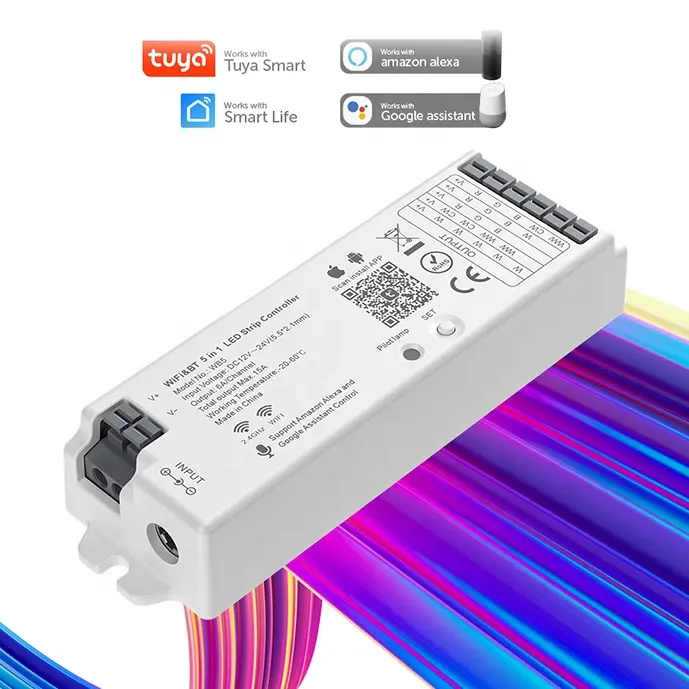 RGB WIFI 5IN1 SMART TUYA LED Strip Controller
The LED Strip Controller RGB WIFI 5IN1 SMART TUYA: Unleash the Power of Smart Lighting!
Transform your space with the LED Strip Controller RGB WIFI 5IN1 SMART TUYA, the ultimate solution for creating stunning lighting effects. Designed with convenience and versatility in mind, this smart controller brings a new level of control and customization to your LED strip lights.
With its built-in WiFi connectivity, the LED Strip Controller allows you to effortlessly manage your lights from anywhere using your smartphone or tablet. Simply connect to the TUYA Smart app and unlock a world of possibilities at your fingertips. Whether you're at home or on the go, you have complete control over your lighting, enabling you to set the perfect ambiance for any occasion.
Experience the magic of 5-in-1 RGB lighting technology. The LED Strip Controller supports a wide range of vibrant colors, including red, green, blue, warm white, and cool white. Create dynamic color combinations, smoothly transition between hues, or synchronize your lights with music for an immersive audio-visual experience. The possibilities are endless, allowing you to personalize your space and set the mood to match your style.
Effortless installation and compatibility are key features of the LED Strip Controller. It is designed to work seamlessly with most LED strip lights, making it a versatile choice for both DIY enthusiasts and professionals. Simply connect your LED strips to the controller, follow the intuitive setup process, and you're ready to go. The compact and sleek design ensures a discreet installation, keeping the focus on the stunning lighting effects.
Safety and energy efficiency are paramount. The LED Strip Controller is built with high-quality materials and features advanced protection mechanisms to ensure reliable performance and durability. Additionally, it is designed to be energy-efficient, allowing you to enjoy the captivating lighting effects without worrying about excessive power consumption.
LAIMI WiFi 5 in 1 LED Controller – Hopequan-Lights&Lighting Wholesale Supplier