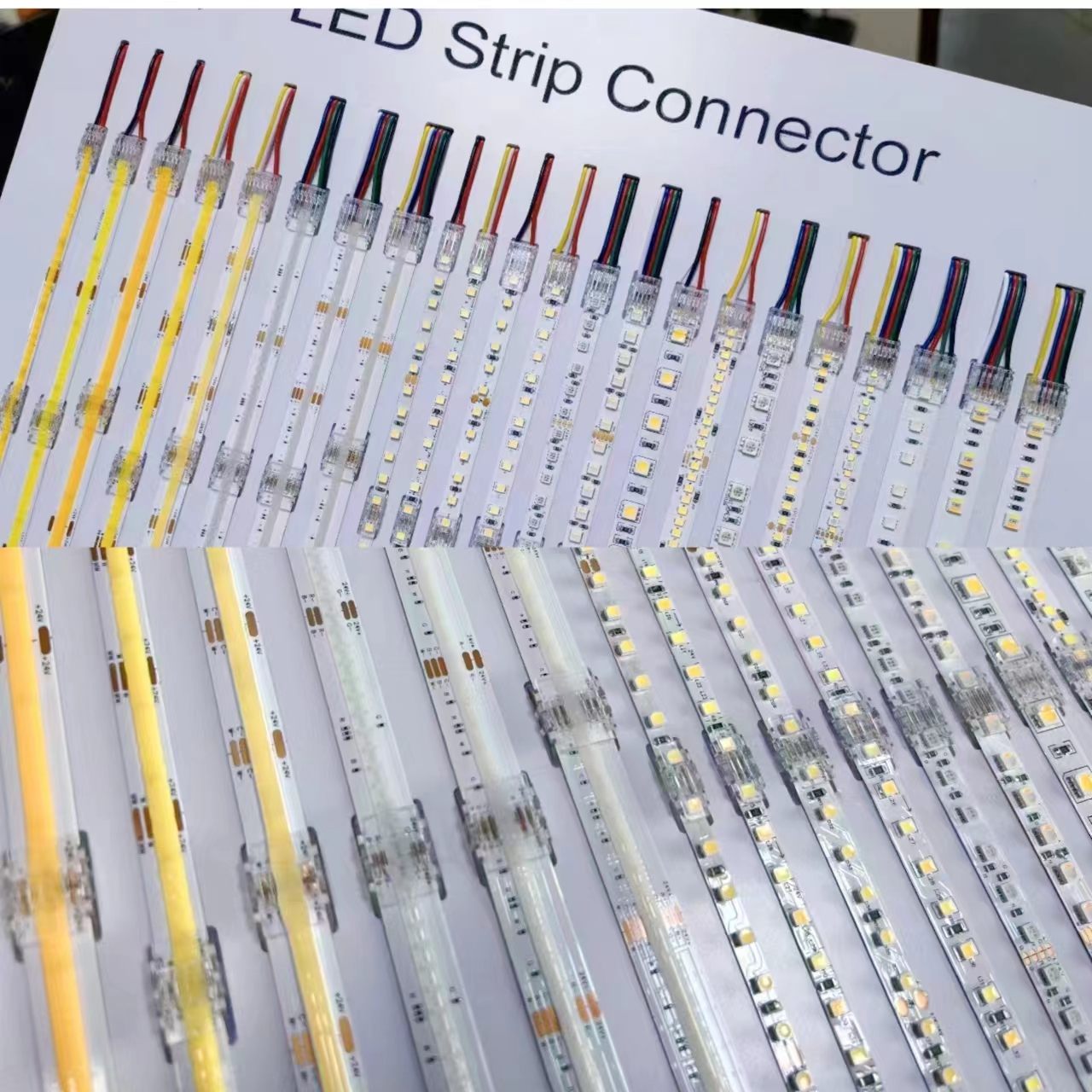 About light strip connector
A light strip connector is a tool used to connect different sections of light strips, extension cords or other accessories. Here are some common light strip connectors and their uses:
In-line connectors: These connectors are usually used to connect two sections of strip light to make a continuous light effect. They can simply plug the wires at both ends into the connector to ensure current continuity.
L-type connectors: L-type connectors are used to connect two sections of light tape at right angles to each other. They allow the light strip to be turned at the corner to suit different arrangement needs.
T-connectors: T-connectors allow a section of strip to be split into two sections and form a T-shape at the connection point. This can be used to install multiple light strips in different areas or directions.
4-pin connectors: These connectors are typically used for RGB strips and allow the red, green, blue and common control lines of the strip to be connected. They allow the colour and effect of the RGB strip to be consistent across the connection points.
5-pin connectors: These connectors are typically used for RGBW or RGBCW strips and allow connection of red, green, blue, white (or cool white) and common control lines. They allow for consistent colour and effect of the RGBW or RGBCW strip at the point of connection.
When choosing a light strip connector, consider the following points:
Strip type: Make sure the connector you choose is compatible with the type of strip you are using. Different types of light strips may require different types of connectors.
Functional requirements: Choose the right type of connector based on your layout requirements and design concept. For example, if you need to turn at a corner, choose an L-type connector; if you need to split into multiple segments at a single connection point, choose a T-type connector.
Quality and reliability: Choose good quality and high reliability connectors to ensure that they can stably connect the light strip and maintain good current transmission.
Ease of installation: Consider the ease of installation and use of the connector. Some connectors may require soldering or the use of tools to connect, while other connectors may be plug-and-play design, more convenient.
Brand and reputation: Choose connectors with a good brand and reputation for quality and performance.
Before purchasing a connector, it is best to know the specifications and requirements of the strip you are using and select the right connector based on these requirements.
Products – Hopequan-Lights&Lighting Wholesale Supplier