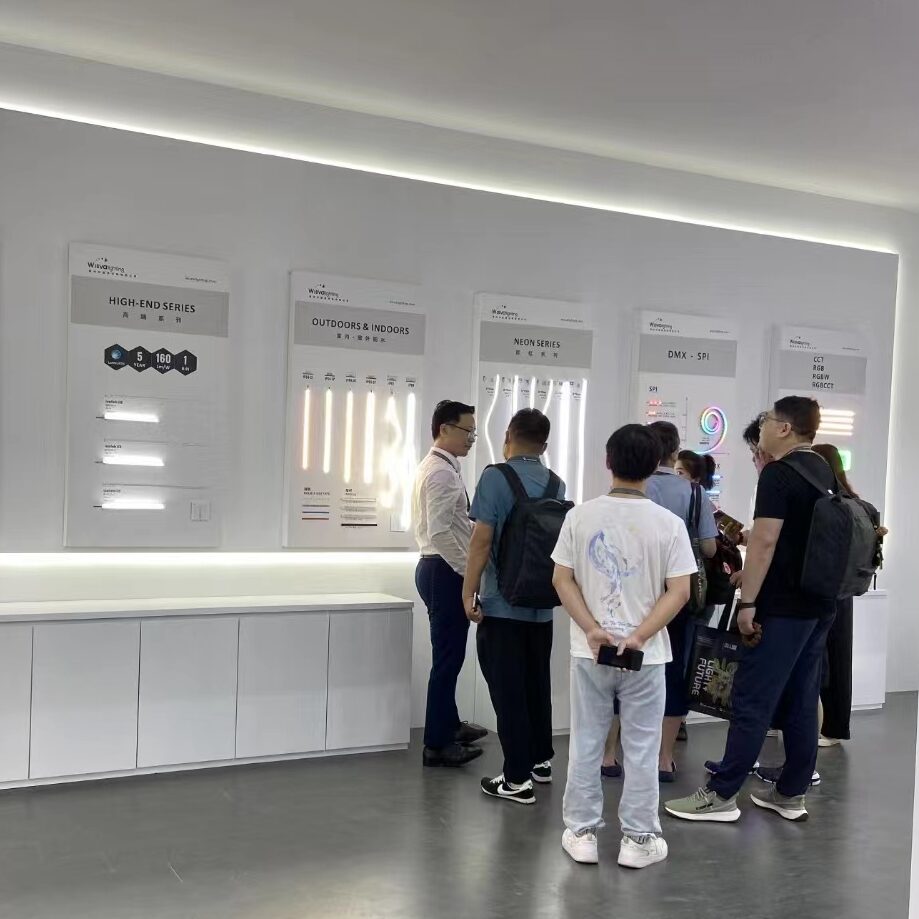 Lighting Exhibitions
A lighting show is an industry exhibition that specializes in showcasing and promoting a wide range of lighting products. These exhibitions usually attract lighting manufacturers, suppliers, designers, buyers and professionals from all over the world to exhibit and visit. Here is some information about lighting trade shows:
Demonstration of products: Lighting fairs are platforms for the lighting industry to showcase their latest products, technologies and designs. Exhibitors will display various types of lamps and lanterns, including chandeliers, wall lamps, table lamps, light strips, downlights and so on. In addition, accessories, control systems and smart lighting solutions related to lighting may also be displayed.
Innovation and design: Lighting fairs are important places to learn about the latest design trends and innovative technologies. Exhibitors will showcase their design concepts, material innovations and lighting solutions, providing inspiration and networking opportunities for industry professionals.
Business Negotiation: Lighting fairs provide a platform for suppliers and buyers to meet face-to-face and discuss business. Buyers can negotiate with suppliers about purchasing cooperation, product features and prices, while suppliers can find new partners and expand their markets.
Industry exchanges: The Lighting Fair also provides opportunities for industry exchanges and learning. Exhibitors and visitors can participate in various seminars, forums and activities to share experiences, discuss industry trends and challenges, and strengthen cooperation and connections within the industry.
Market Insight: By visiting the Lighting Fair, you can learn about the latest developments and trends in the lighting market. The exhibits and products displayed by exhibitors at the show can help visitors understand the market demand, competitive landscape and consumer preferences, which will help them formulate marketing strategies.
Some well-known lighting exhibitions include China International Lighting Fair, European Lighting Fair, American International Lighting Fair and so on. These exhibitions are usually held regularly and attract exhibitors and visitors from all over the world. If you are interested in lighting products, you can pay attention to the information of related lighting exhibitions in order to get the latest lighting products and industry news.
Below are some well-known smart lighting exhibitions:
Light + Building: Light + Building is the world's largest lighting and building technology exhibition, showcasing the latest lighting technologies, smart lighting solutions and lighting designs. The show is held every two years in Frankfurt, Germany.
LED Expo: LED Expo is one of the largest LED lighting exhibitions in Asia, showcasing LED lighting products, application solutions and technological innovations. The exhibition is held annually in India, Thailand and Vietnam.
Guangzhou International Lighting Exhibition: Guangzhou International Lighting Exhibition is one of the largest and most influential lighting exhibitions in China, showcasing lighting products, technologies and solutions. The exhibition is held annually in Guangzhou, China.
Hong Kong International Lighting Fair: Hong Kong International Lighting Fair is one of the most important lighting fairs in Asia, showcasing lighting products, intelligent lighting systems and solutions. The fair is held annually in Hong Kong.
CES: The International Consumer Electronics Show (CES) is one of the world's largest consumer electronics exhibitions, showcasing a wide range of smart home products and technologies, including smart lighting. The show is held annually in Las Vegas, USA.
These shows are an important showcase for smart lighting products such as light strips and light strip controllers, attracting exhibitors and professional visitors from all over the world.
HopeQuan-Lights&Lighting Wholesale Supplier! Made in China